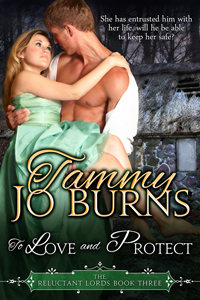 *****2015 RomCon Reader's Crown Finalist in Historical Romance***** 
The Reluctant Lords Trilogy
To Love and Protect – Book 3
Lady Clarissa Blackerby enjoyed the peaceful life she and her father lived among the ton. That is until he remarried. Clarissa does not trust her new step-mother nor her step-mother's brother, but being an only child she has no one to look to for help. When her father disappears and she is attacked, she turns in desperation to her aunt. 

When Lord Justin Southerby receives a plea from his godmother he dreads what he will walk into. Expecting to have to save her from another of her madcap capers, he instead finds her niece in desperate need of protection. 

As they join forces to find her father, Clarissa and Justin find themselves being pulled into a deeper intrigue. As they find themselves in more danger, they realize they can only trust each other. Will they find answers before it is too late? Will the trust they develop lead them to a love that will last a lifetime? Or will the past create a chasm between them that not even love can span? 

This is the titillating ending to The Reluctant Lords Trilogy. The Reluctant Lords Trilogy follow three men in Regency England who inherit titles they aren't supposed to have and the women that love them. 

A Regency historical romance full of spies, intrigue and romance.
Click below to purchase:
Amazon | Nook | iBooks | Kobo | inktera | Scribd
The Reluctant Lords Trilogy: 
A Traitorous Heart – Book 1
A Thin Line – Book 2
To Love and Protect – Book 3
The Rogue Agents Trilogy:
Taming the Wicked Wulfe – Book 1
Seducing the Ruthless Rogue – Book 2
Enticing the Weary Warrior – Book 3