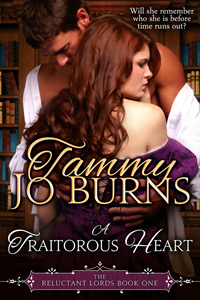 *****2014 RomCon Reader's Crown Finalist in Historical Romance***** 
The Reluctant Lords Trilogy
A Traitorous Heart – Book 1
She thought she had lost everyone during an early attack by Napoleon's forces. Then upon returning to England she loses even more…
He lost his new wife in a brutal attack six months ago during one of the first battle surges by Le Grande Armée. Left with an injury to remind him of that time he reluctantly takes up his mantle as a Peer of the Realm and uses his skills with numbers and letters to help the War Office as a code specialist. 

Nothing could surprise him more than walking into a government safe house to question a suspected traitor and find his supposedly dead wife lying injured with no memory of their time together. Is she a traitor? Where has she been all this time? And is their love strong enough to survive or will the truth tear them apart forever? 

A Regency historical romance full of spies, intrigue and romance. 
Click below to purchase:
Amazon | Nook | iBooks | Kobo | inktera | Scribd
The Reluctant Lords Trilogy:
A Traitorous Heart – Book 1
A Thin Line – Book 2
To Love and Protect – Book 3
The Rogue Agents Trilogy:
Taming the Wicked Wulfe – Book 1
Seducing the Ruthless Rogue – Book 2
Enticing the Weary Warrior – Book 3