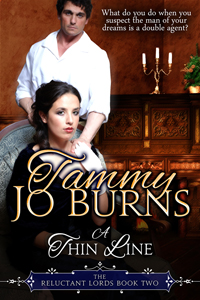 *****2014 RomCon Reader's Crown Finalist in Historical Romance***** 
The Reluctant Lords Trilogy
A Thin Line – Book 2
She grew up believing he was her knight-in-shining armor. He thought of her as his best friend's little sister, the pest that followed them around everywhere. 

Now time and circumstances have changed them both. By a series of unfortunate events, Gabriel has become the Duke of Hawkescliffe and sees himself resigned to a loveless marriage. Until that time arrives, he will continue to serve in the fight against Napoleon as an Agent for the Crown. 

When Mikala Simmons overhears a conversation that sounds as if Gabriel is trading secrets with a foreign agent, she is torn. Should she tell someone or confront the man himself? Only as she becomes further embroiled in the subterfuge and her life hangs in the balance will Gabriel have to decide what is truly important. Society, the Crown, or the woman of his dreams? 

A wonderful Regency historical romance full of deception, secrets, and love. 
Click below to purchase:
Amazon | Nook | iBooks | Kobo | inktera | Scribd
The Reluctant Lords Trilogy: 
A Traitorous Heart – Book 1
A Thin Line – Book 2
To Love and Protect – Book 3 
The Rogue Agents Trilogy:
Taming the Wicked Wulfe – Book 1
Seducing the Ruthless Rogue – Book 2
Enticing the Weary Warrior – Book 3